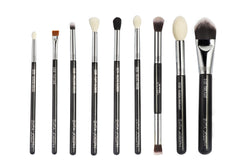 9-PCS SALTED MAKEUP BRUSH SET
Adding spices your already spiced look with the Salted Brush Collection ..
1. Multi Buffer - Perfect density with dual ended sides to apply and blend out products under the eyes , on the lids , around the brow area and any hard to reach areas for seamless finish.
2. G105 Face Paint - Perfect brush for applying anything onto the face. To cut contours and blend . 
3. G125 Classic Highlight - This precise highlighting brush is perfect for applying your favorite highlighter.
4. G220 Classic Crease - Perfect pencil brush to apply color in the crease , inner tear duct and for smudging color below the lash line. 
5. G240 Precision Crease - Is the perfect medium size dense blending brush to blend out the crease , cut crease while keeping the eyeshadow in place.
6. G235 Deluxe Crease - Perfect for creating professional crease work. 
7. G300 Flat Edge - Favorite brush for sculpting the brows. 
8. G280 Fluffy Blender - This blender is perfect for blending out the transition color. 
9. G275 Deluxe Blender - A round tip brush for perfectly diffusing eyeshadow to create a perfect composition.